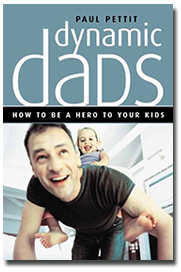 Book Description
In Dynamic Dads, Paul Pettit shows busy dads how they can be winners not only at work, but also at marriage and parenting. Pettit challenges men to lead their families with purpose, integrity, and involvement, and offers practical ideas and strategies for doing so. Dynamic Dads proves that fathers can create a powerful legacy that will live on through future generations when they really know, encourage, and support their kids--and live lives of vulnerable authenticity before them.
From the Back Cover
You know what it takes to win in the workplace, but what about at home? Are you as determined to win at home as you are at work? Have you learned to balance the deadlines and demands of your job with the tremendous task of fathering? Its a difficult balancing act--keeping your priorities right and being the best you can be in both worlds.
With a little bit of knowledge, a strong commitment, and lots of prayer, you can be a Dynamic Dad, someone who wins at work and at home. In Dynamic Dads, Paul Pettit gives you everything you need to formulate your own strategy for pulling together a winning home team.
You'll read stories and learn the secrets of other Dynamic Dads. You'll also gain some practical tips and find information to help you:
Become a hero at home
Get more involved in the lives of your kids
Understand what true authority is
Learn how to stay accountable
Be your childrens biggest cheerleader
Whatever else you accomplish on this planet, your role as a father deserves your very best.
You can read a chapter sample of Dynamic Dads by clicking here.
Only $9.99 ea.